Holmes County Consolidated School District celebrated its first College Signing Day, they call it the Big College Reveal.
Sharon Williams, Chief Academic Officer at Holmes County Consolidated District says, "As you know our Former First Lady Michelle Obama started College Signing Day in 2014. This is the first time that the Holmes County Consolidated celebrated college signing day, and we're very excited."
Williams says the college signing day is special, not only to student athletes, but also to all seniors pursing post secondary education.
"College signing day for athletes is the number one time in their college careers. This is a time for all students who have chosen to pursue some post secondary education to celebrate where they are going. It's not only 4 year colleges, but 2 year colleges, military service, and community college of any kind," she says.
Ribria Moore, a senior at Holmes County High, says she is excited to participate in the signing. She will be attending Ole Miss University.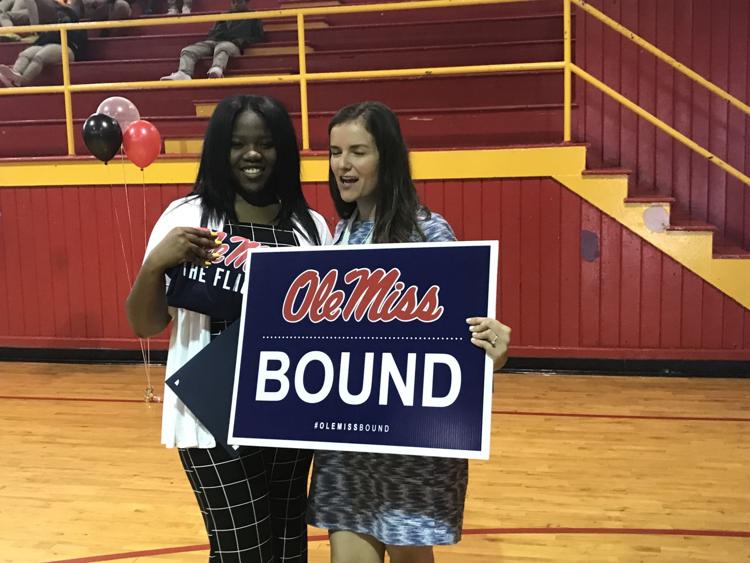 "I have been ready to go to college forever, and this is our first time doing this so, it makes me feel very special because by the whole school not being able to be an athlete, it's really great that they recognize us as a school, and everyone who chooses to attend college has a signing day."
A signing day that Ribria Parent, Robert Moore says he was honored to witness.
"I'm so excited for my daughter going to Ole Miss. You know the stigma around Ole Miss, so I'm proud of her to be an African-American going to Ole Miss and representing Holmes County. I'm excited for my daughter and all the kids making a way going to college about to make that first step in life."
"I start getting very emotional, because normally they do this for athletes all the time, and I was just getting so excited I couldn't stay in my seat. I got up and walked down the middle to take a picture," says Parent Tamika Clark-Garnett.
Out of the 50 students who committed to post graduate studies, and military service, about 32 participated in the college signing event.
Williams says, "We have many more who are still waiting on their college acceptance papers, and also some who were just to shy to celebrate with us today, we're very excited and looking to double this number next year."
Students were encouraged to take pictures after the College Reveal Celebration, and post them with the hashtag #CollegeSigningDay.